Cotton Sourcing
We strongly believe that by using good quality raw materials, we can supply superior quality fabric to our customers.  Cotton sourcing is done from African countries – Zimbabwe, Mali, Malawi, Tanzania, Mozambique, Madagascar, Ivory Cost, South Africa, Benin, Burkina Faso due to very good quality, proximity and short transit time. Need based, alternative sourcing from Brazil and Texas–USA is considered when necessary. Sourcing of raw material from nearby countries is in alignment with our strategy of improving our carbon footprint.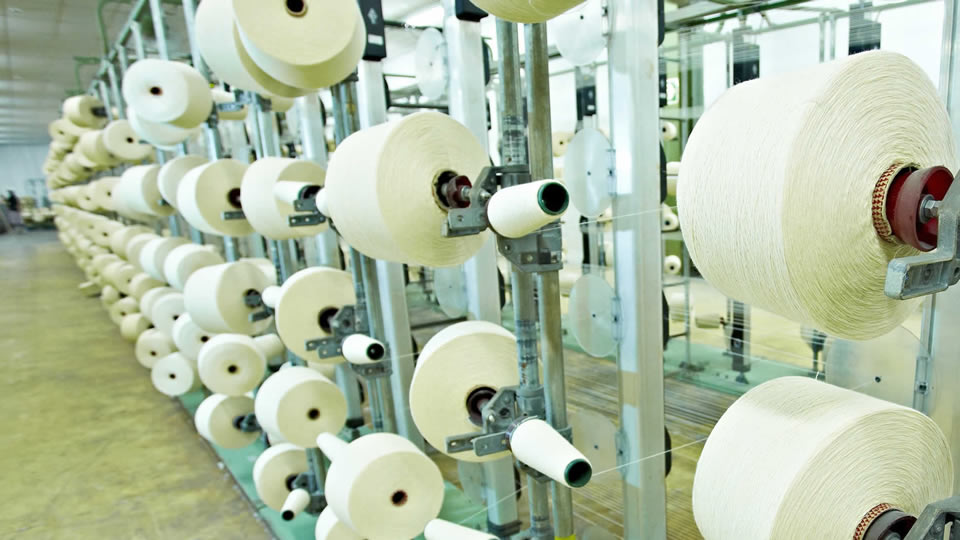 Spinning
Latest equipments and gadgets from European manufacturers (Trutzschler, Saurer-Zinser-Schlafhorst, Rieter, Amsler, Pinter, Lopfe) have been installed to produce value added specialized yarn for superior quality of Denim Fabric.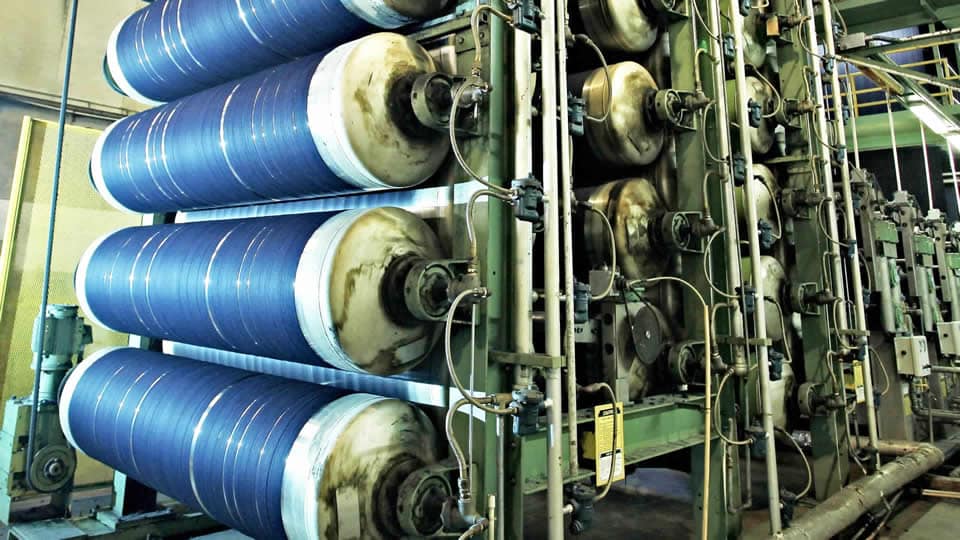 Warp Preparation
Both dominant systems of indigo warp dyeing – Rope Dyeing Range (Morrison-USA) and Integrated Dyeing Cum Sizing Range (Master- Italy and Sucker-Muller Germany) installed under one roof and supplemented by sophisticated liquid indigo and pre-reduced sulphur system with online process control, results into immense flexibility, unique color combination of the era, superior quality and excellent consistency.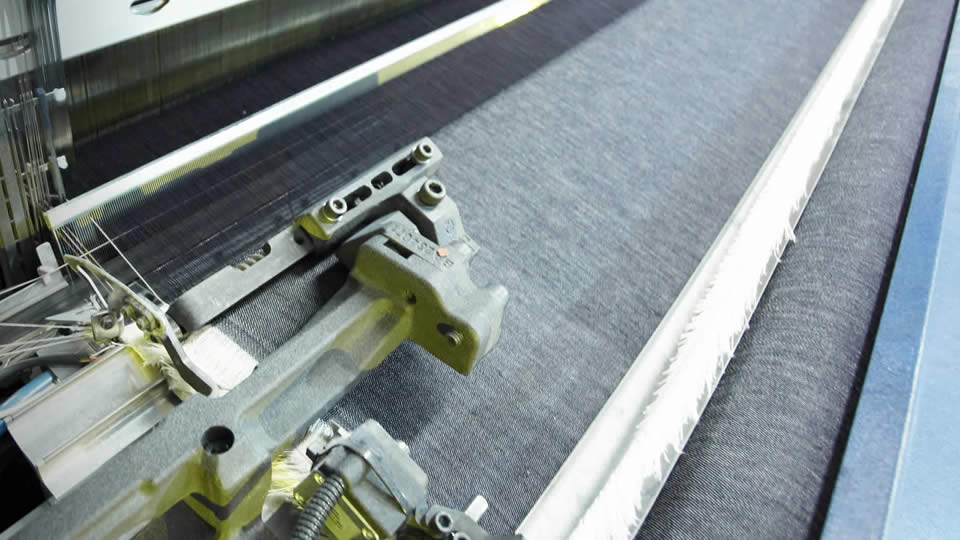 Weaving
It is the combination of highly versatile Air-jets and energy efficient Rapiers (both from Picanol-Belgium). Selvage Denim is woven on original concept of weaving – the shuttle technology. Our weaving shed combines technological heritage with the latest updates in Denim Weaving.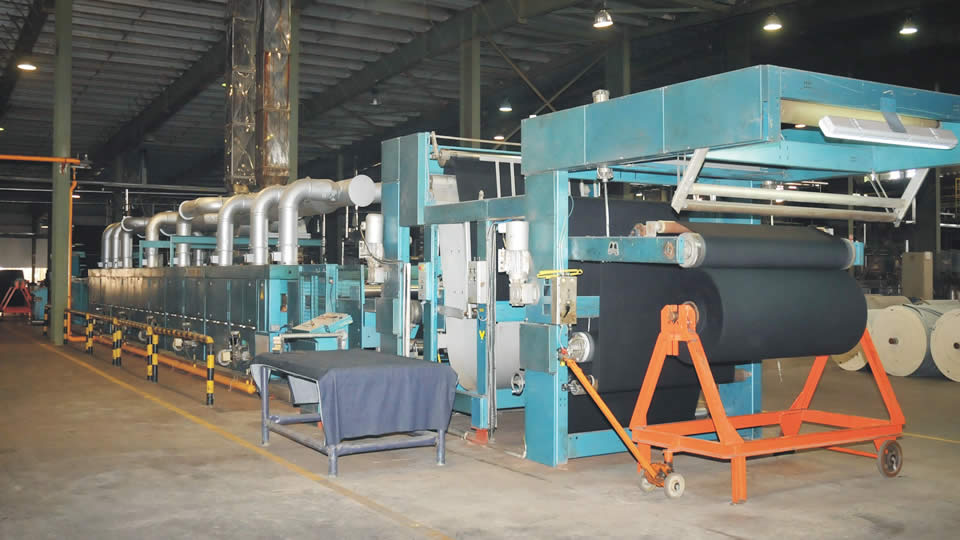 Finishing and Effects
Fabric Processing and finishing set up comprises of Wet Finishing Range (Morrison-USA), strengthened by Foam Coating (Gaston-USA), Ranges for -Flat Finish-Over dyeing-Heat Setting and Calendaring machine resulting in the finishes of the denim fashion world of the era today and tomorrow.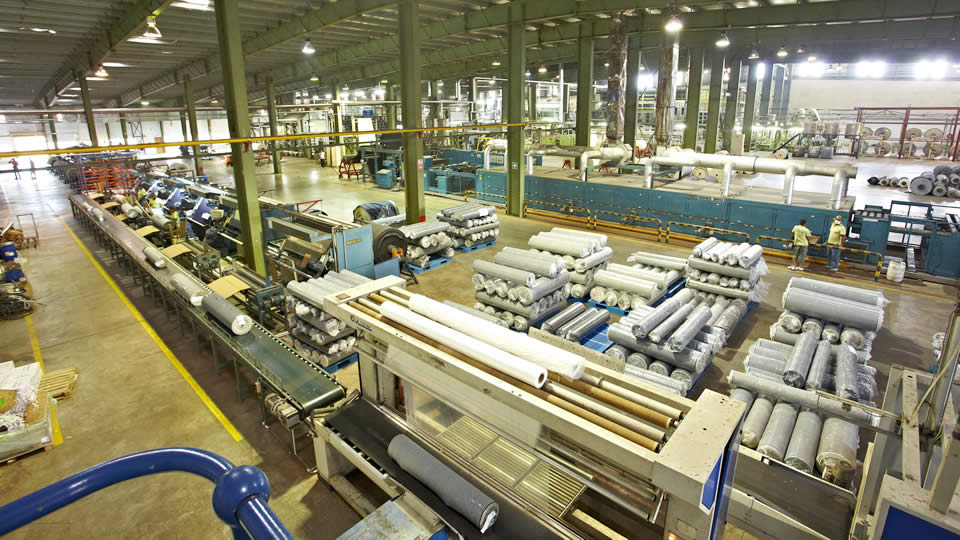 Quality Control
We adhere to strict in-process quality control measures in spinning, as we strongly believe that a consistent yarn quality results in a consistent fabric quality. As such, the mill is equipped with a modern yarn testing laboratory. A team of experienced Quality Assurance staff monitors the performance at each stage of production through the implementation of a rigorous on line monitoring process. A fully equipped fabric testing lab with testing facilities and optical color evaluation set-up strengthens the Quality Assurance and Control.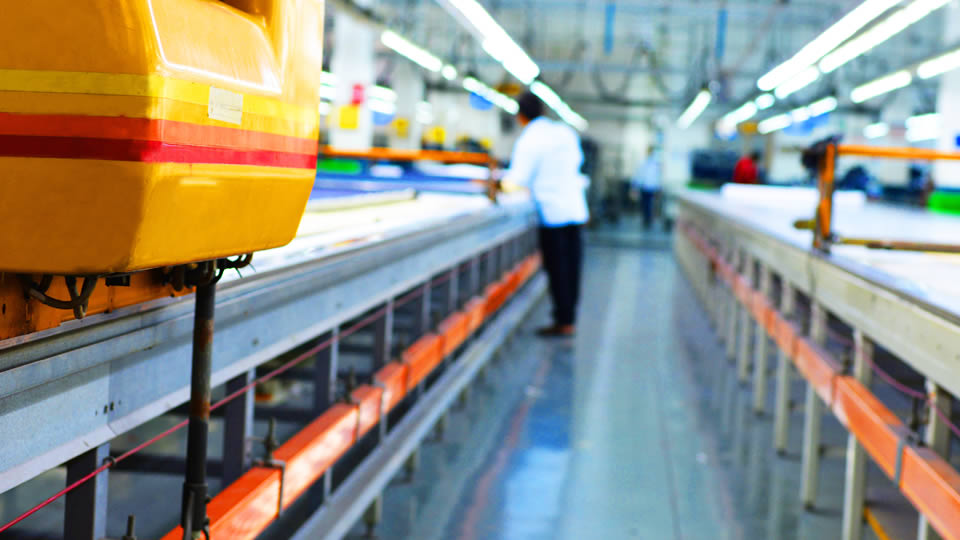 Cutting
The Gerber SLC-700 high-ply cutter provides users with benefits of speed, flexibility and accuracy – in addition to saving fabric and labor. Up to 76 mm (3 inches) of compressed fabric can be consistently and accurately cut, utilizing Gerber's high-efficiency Vaccum hold-down system.
Cutting precision is assured with features such as automatically accommodates for blade deflection and variable knife-speed control, The S-91 is the most reliable cutter high volume, high quality cutting, ideal for heavy duty materials such as denim.
We have qualified personnel who are familiar in managing both Gerber & Lectra software. From the measurement chart we create & grade our own patterns. Thereafter if any amendment requires, it is done in house, subsequently we go for automatic or manual bulk markers. All patterns & markers are thoroughly checked before it starts on bulk cutting.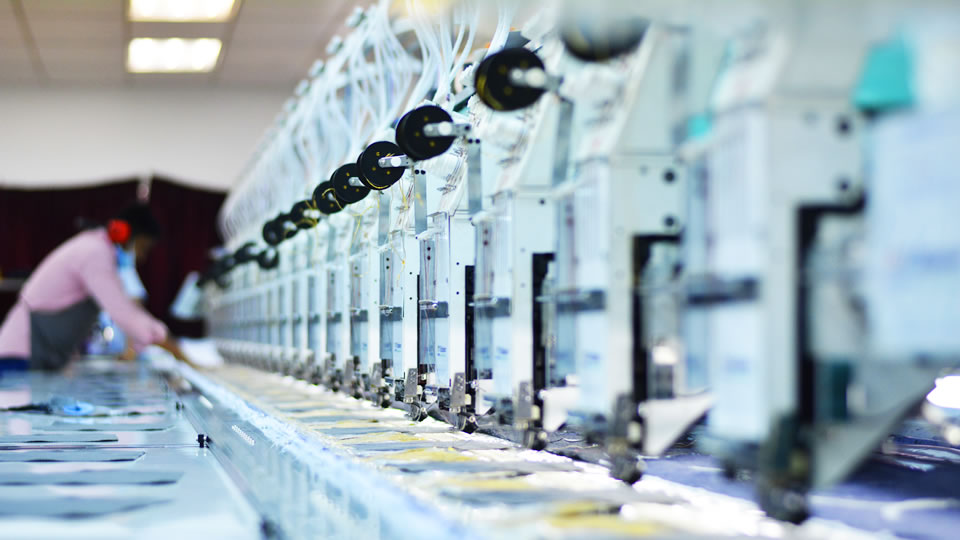 Embroidery
All embroidery designs are done in house. User defined designs are processed and punched at both plants.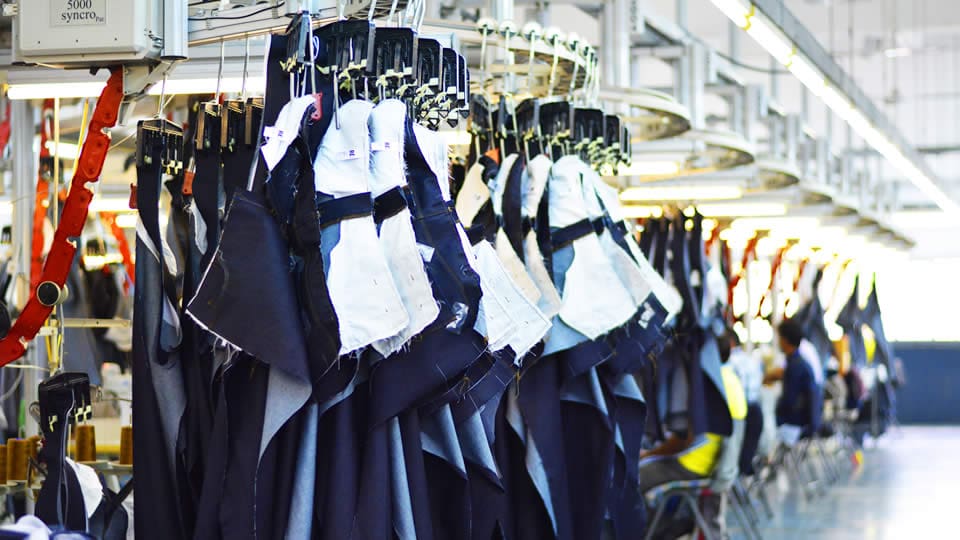 Sewing
Our production floor in St-Felix is equipped with 7 computerized Eton conveyor systems to ensure, increase and maintain productivity and quality consistency.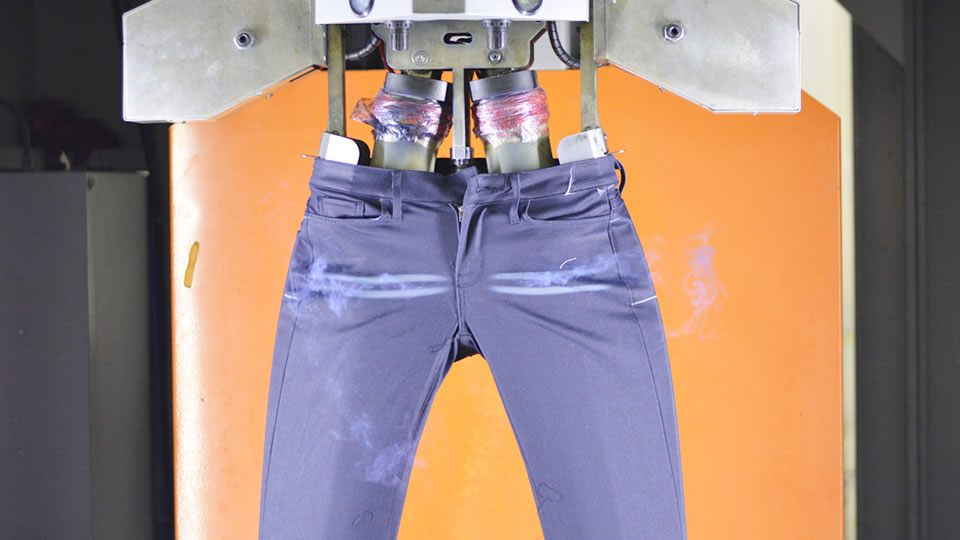 Laser
Whiskers and other designs are done using our latest laser Robots from Tonello and GFK twin from Jeanologia. We are equipped with 3 Tonello Laser Robots and 1 GFK twin laser robot equipped with two laser beams each giving precise & constant patterns, no matter what the quantity is its quality that we produce.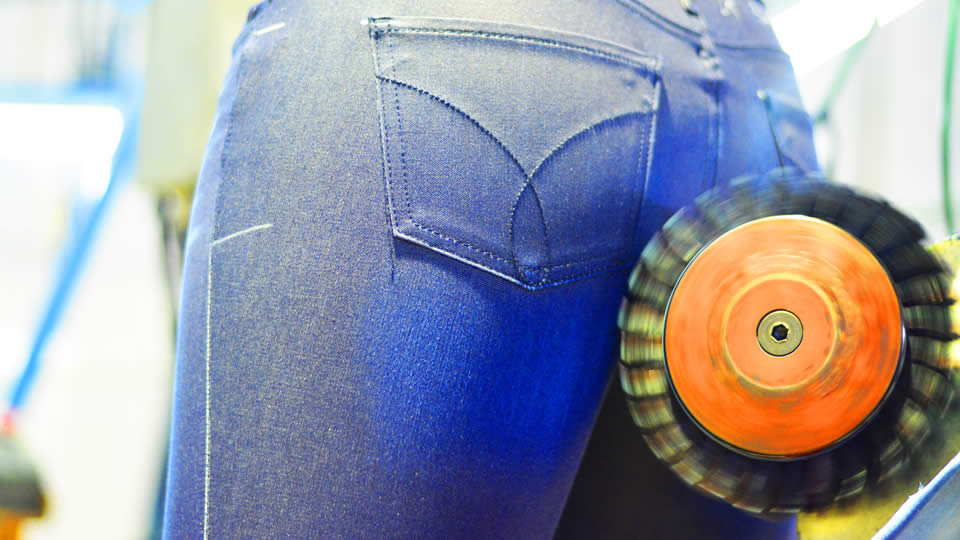 Automatic Robot/ Brushing
GFX (Jeanologia) 4 Tonello Brush Robot Evolution, Tonello Brush Carousel from Italy are the equipments we use to give customized "Natural Used Look" effects.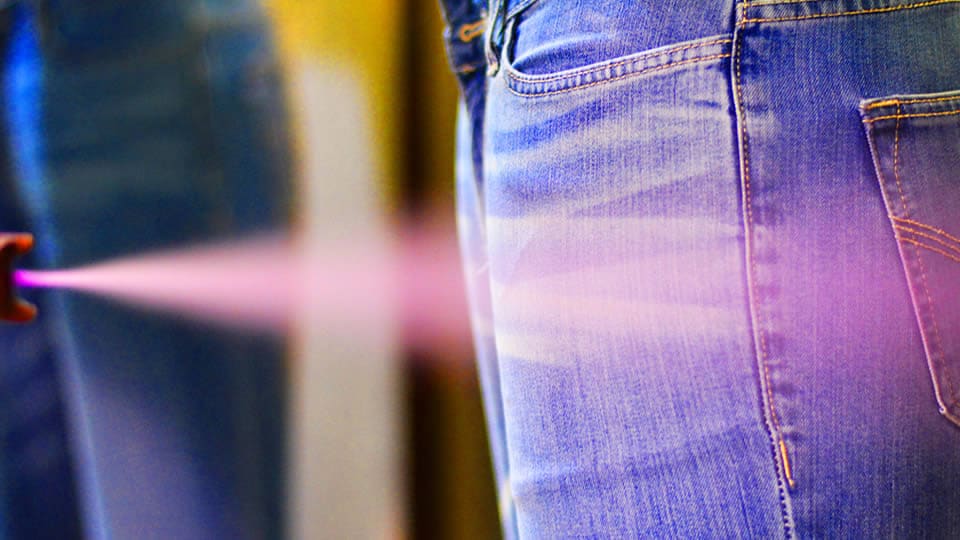 PP Spray
Tonello's Carousel Spraying Booth and the Eco Air Spraying machine gives the effectiveness to perform PP Spray & various spray processes and effects.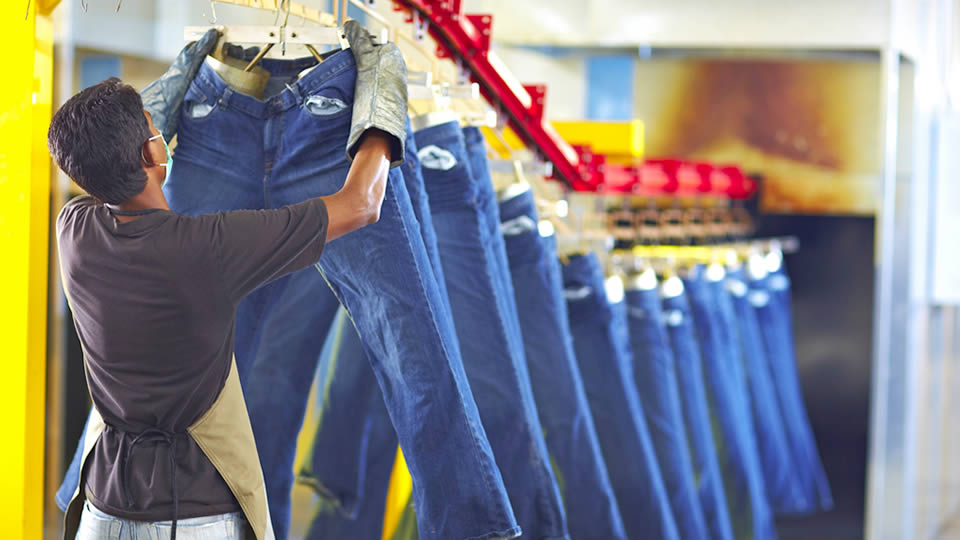 Automatic Conveyor oven
Automatic Conveyor oven for curing the whiskers – With the latest model of Tonello Bohemia Robots and Eco Air Oven, we are able to design multiple kinds of Baked Whisker's effects, thus achieving customer's satisfaction fully, with the latest fashion trends.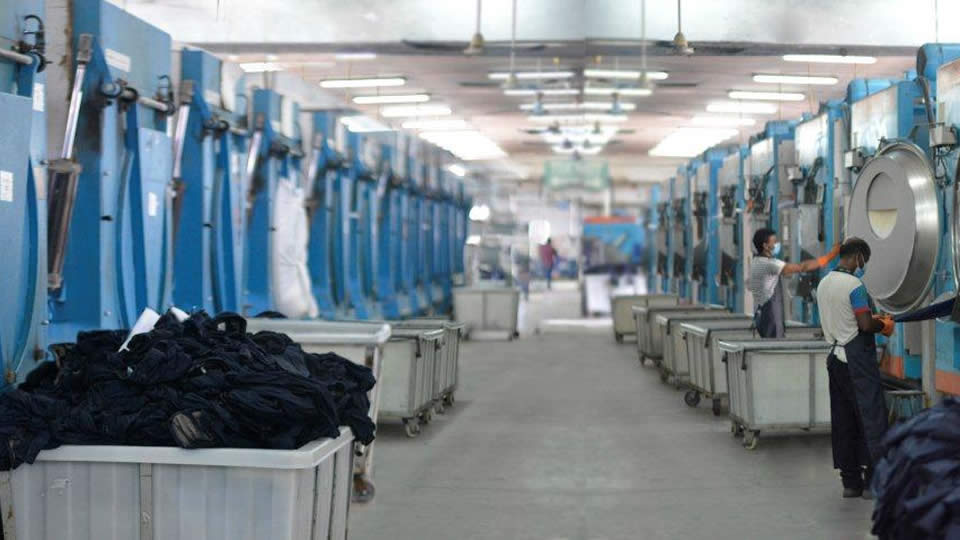 Wet & Dry Process
We are fully equipped with Tonello Washing & Drying automated machines, ensuring constant wet processes, like Stone Wash, Bleach Wash, Tinting and Drying.